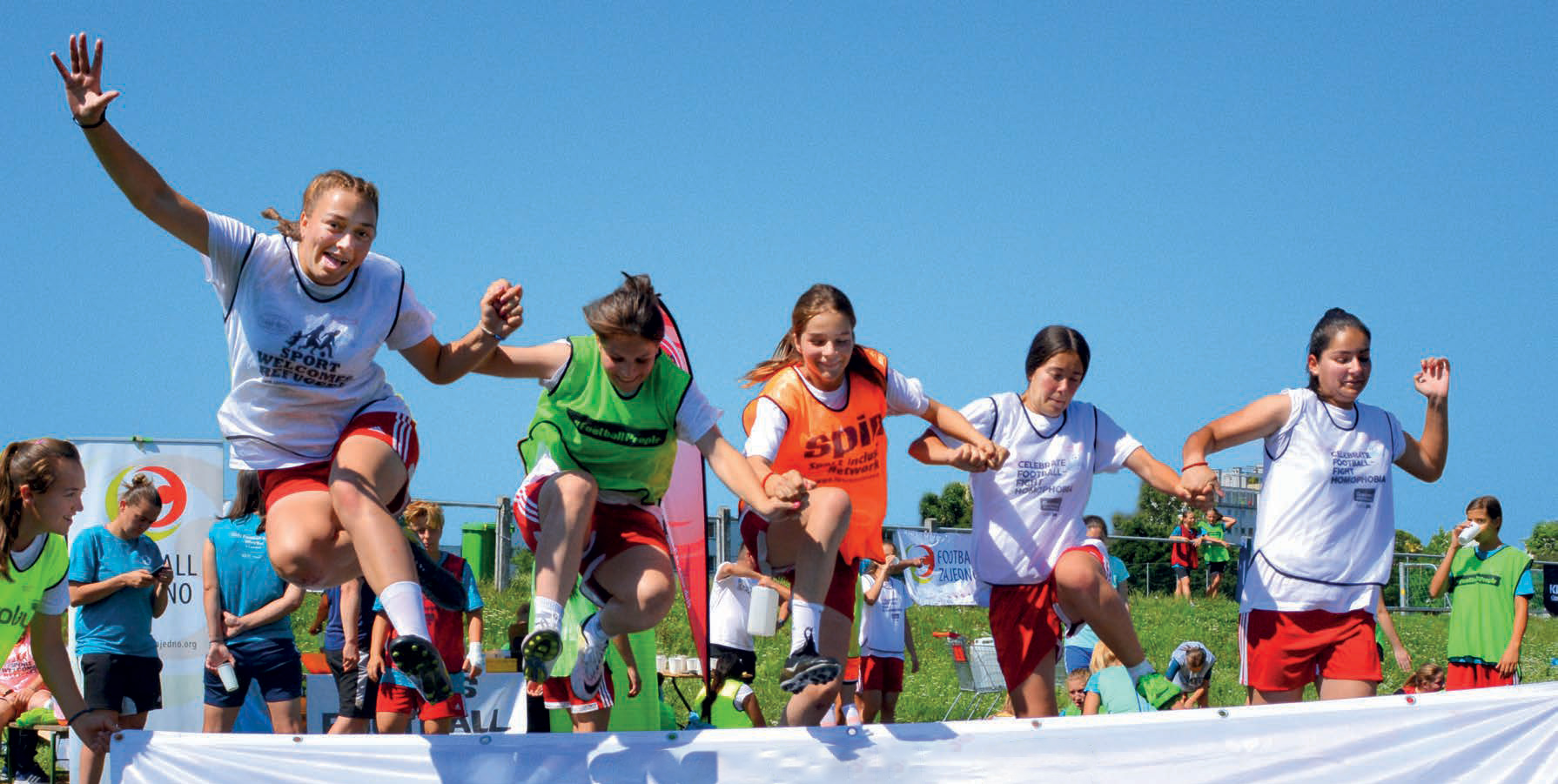 The Sport Inclusion Network (SPIN) is built on the vision that sport is for ALL in society. However, marginalized groups, including refugees, migrants, and ethnic minorities – particularly women and girls – face barriers when participating in sport and physical activities.
SPIN has been formed to address these barriers and often intersectional dimensions of discrimination such as gender, sexual orientation, religion, age, disability, or social status. Our goal is to make full use of sport as a means for social inclusion and integration.
The strength of a network lies in the diversity of its members. Therefore, we call on sport clubs, associations, NGOs, and grassroots initiatives as well es public institutions and companies, to unite for social inclusion in and through sport and join SPIN.
The purpose of SPIN (from our statutes):
SPIN fights for the right to enjoy sport and physical activities in a safe environment without the fear of discrimination and/or harassment.
SPIN promotes equality and equal opportunities in and through sport and combats any form of discrimination.
SPIN, in its operations and practices, is committed to principles enshrined in international frameworks such as the Universal Declaration of Human Rights, the Convention on the Elimination of All Forms of Racial Discrimination, and the European Sports Charter.
If your organization supports these values and our mission and you are interested in joining SPIN, we would love to hear from you.
Benefits for SPIN members:
Being part of an international network that promotes social inclusion in and through sport
Exchange of best practices with experts and practitioners
Developing ideas for a more inclusive sport
(Online) networking events that connect members and increase our common impact
Support for grassroot clubs and initiatives in building their capacity to offer inclusive sport
Forging partnerships for collaborative projects under the Erasmus+ programme (SPIN's PIC number: 881215707)
The following membership options are available:
Type of Membership
Annual Fee
Organisational member(e.g. NGO, grassroots initiative or sport club)

From a "high income" or "upper middle income" country (World Bank):
15 €

From any other country:
0 €

Supporter orInstitutional member(e.g. public institution, association, company)
Minimum: 150 €Based on capacity, a higher fee can be paid in voluntary support of SPIN
Individual member(without voting rights)
10 €
Notes:
All membership requests are subject to approval by the SPIN Board.
Standard membership period is 12 months.
Requests to join SPIN as a member can be made on a rolling basis. However, there are two formal joining dates per year: 1st of January and 1st of July. Membership fees will be collected on these dates. Each member's membership period will be counted from one of these dates according to their moment of joining.
Members assume all membership rights and duties, including voting rights (except individual members). See Articles 8, 9, and 10 of the SPIN Statutes.
For more information and any queries reach out to us at: info@sportinclusion.net
Ready to join SPIN? Then send your application via the form below.
Membership Application Form: