SPIN Women Conference: "An obstacle course" – Follow-up report
We look back on two exciting conference days and would like to take this opportunity to thank all participants for their active support!
From Monday 31 May to 1 June 2021, our conference An Obstacle Course – Inclusion and Participation of Migrant Women & Girls in Sport took place at the AK Vienna Education Center. The event was organized in cooperation with AK Vienna and is part of the Europe-wide project SPIN Women – Sport Inclusion of Migrant and Minority Women. Until just before the conference, it was not clear whether the current Covid situation would allow for a face-to-face event. In the end, however, we were able to set up a hybrid event, which was new territory for us!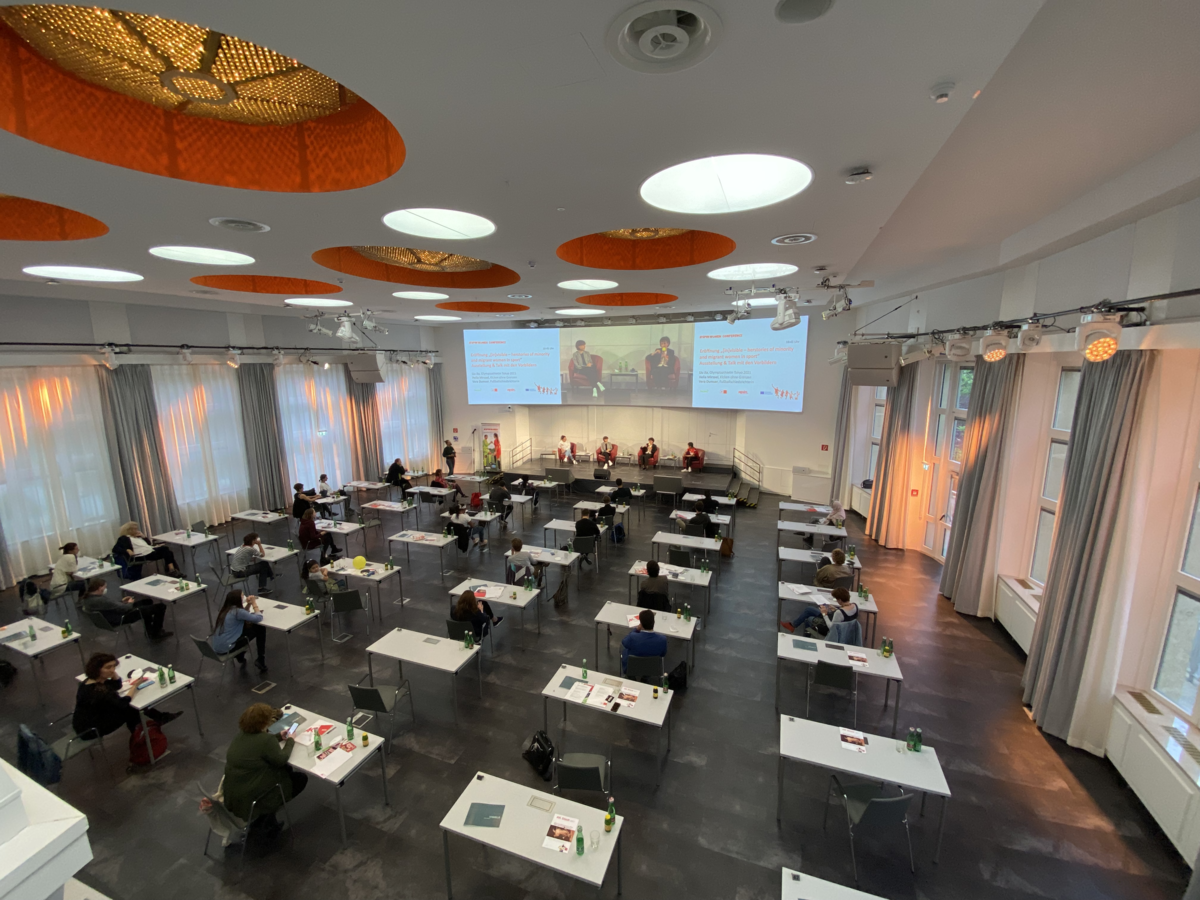 DAY 1, 31.5.2021
The first day took place as a presence event with about 50 guests at the AK Vienna and was broadcast live on YouTube. The conference was opened with introductory words by AK President Renate Anderl and Niki Staritz from the fairplay team.
At the opening talk Is the Inclusion of Migrant Women & Girls on sport's agenda" Renate Anderl, Gabriele Heinisch-Hosek (President of VIDC, former Minister for Women's Affairs), Dieter Brosz (Federal Ministry of Arts, Public Service and Sports) and Mirna Jukic-Berger (former European Champion and Olympic medalist in swimming) met at the podium. Mari Lang (journalist, ORF Sport) was responsible for the moderation.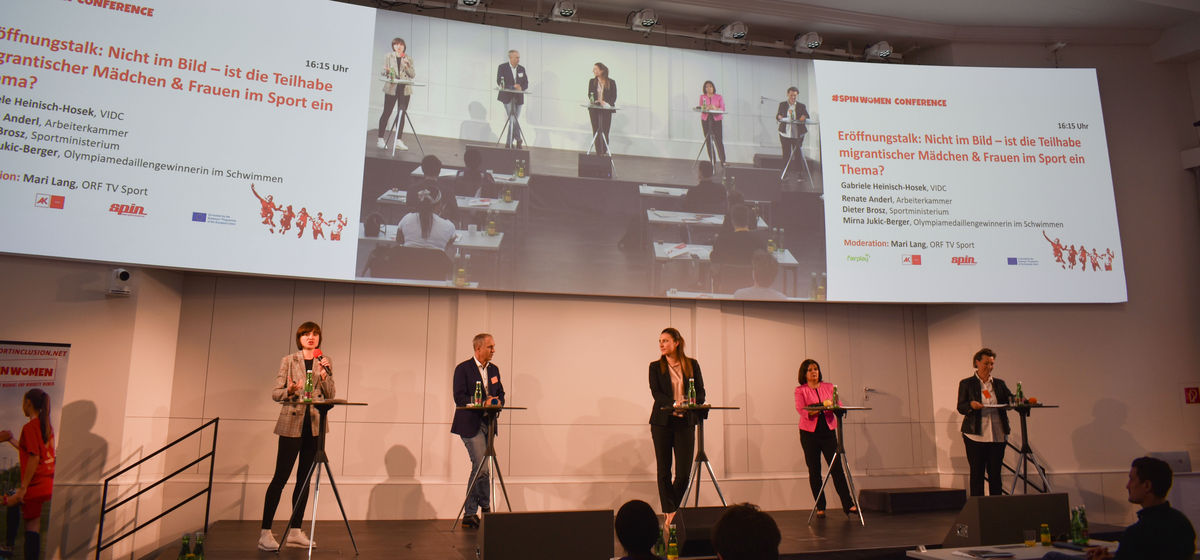 The second point on the agenda was the discussion Sport as a Workplace: Issues of Equality? Asiye Sel (AK Vienna, Women's Department), Liu Jia (professional table tennis player, participant Tokyo 2020 Olympic Games) and Sarah Gregorius (FIFPro, Head of Global Policy and Stakeholder Relations – Women's Football) discussed the daily challenges in the working field of sport. The moderation was done by expert Mareike Boysen (We women in sport).
At the end of the first day, the traveling exhibition [in]visible – herstories of minority and migrant women in sport was opened, which tells the story(s) of women in sports who do not belong to a so-called majority society: Women with migration or refugee history, minorities, BPOc's (Black & People of Color). Some of the faces of the exhibition were present in person, which made us especially happy: Liu Jia, Vera Dumser, Sarah Anulika Nweremizu and Helia Mirzaei!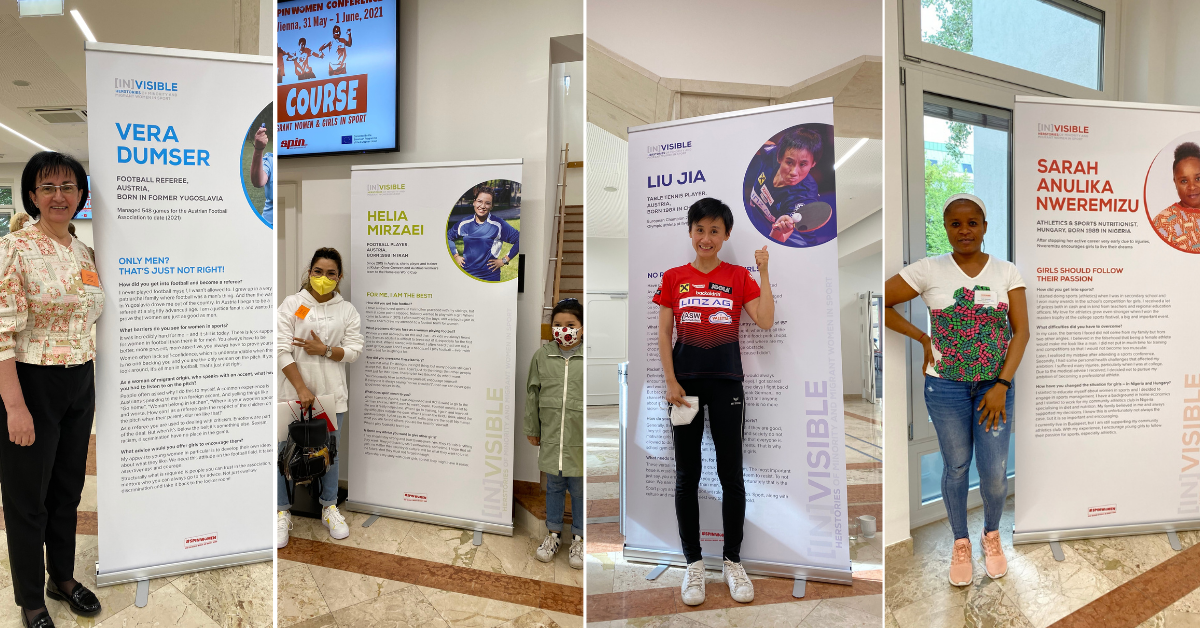 DAY 2, 1.6.2021.
The second day of the conference ran entirely online in the form of Zoom webinars and an interactive workshop. This day was also additionally available live via YouTube!
It opened with the discussion Racism and Sexism in sport: Double exclusion of migrant women, in which Hala Ousta, Diversity & Accessibility Manager at FIFA and Elisabeth Lechner (AK Vienna, author of the book "Riot, don't diet!") talked about the confluence of racist and sexist mechanisms in sport. It was moderated by Des Tomlinson (Intercultural Programme National Coordinator, FAI).
Finally, in the workshop Action research for inclusion of migrant women and girls in sport: how to produce empowering knowledge, things got interactive. After input from Victoria Schwenzer (Camino & SPIN Women), participants were sent into breakout rooms to work and discuss together! Workout facilitators* Nuria Karimi, Lulu Sabbiti and Kayra Hohmann assisted with the implementation. The paper written by SPIN project partner Camino can be downloaded here!
The final discussion of the conference was on Clubs as Gatekeepers: Opening grassroots sport for girls and brought together the following experts online: Pearl Slattery (Womens football program, Football Association of Ireland FAI), Marijke Fleuren (European Hockey Federation (EHF), President and member of the High-Level Group on Gender Equality in sport), Anna Ressmann (Vienna FA, Chairwoman of the Women's Committee), Merlina Linke (Youth Worker, Association of Vienna Youth Center) & Ayisat Yusuf (Monaliiku – Well-Being and Sports for Multicultural Women (Finland), Coach & former Nigeria International). Niki Staritz from the fairplay team took over the moderation!
SPIN partners launch Sport Inclusion Network
As a finale of the event, the audience was introduced by Layla Mousa (UISP) to the SPIN Women project and its results so far.
This was followed by the launch of the international Sport Inclusion Network (SPIN). SPIN coordinator Kurt Wachter and David Hudelist (both fairplay) retold the successful story so far. SPIN started in 2010 as a project and evolved over the years into a key European actor on social inclusion through sport
The founding organisations underwent an in-depth discussion process and agreed to formalise the network. Finally, they drafted statutes which were presented to the potential future member organisations. The SPIN network will be registered as a Non-profit association according to Austrian law.
In conclusion, representatives of the founding organisations including Victoria Schwenzer (Camino, Germany), Des Tomlinson (FA of Ireland), Joana Libertador (Sindicato dos Jogadores Profissionais de Futebol, Portugal), Jean-Marc Alingue (Liikkukaa – Sports for All, Finland) and Gibril Deen (Mahatma Gandhi Human Rights Organisation, Hungary) took the floor and explained why the network is important and why they join.
A nice, rounded conclusion for two exciting conference days!
We would like to take this opportunity to thank all participants, partners and sponsors. Another important step in the SPIN project has been taken! THANK YOU!